BUILDING A COMPANY WHERE EMPLOYEES CAN THRIVE
Our commitment to employees is an essential part of our EESG priorities. Our people are the force that moves our company forward – advancing our business strategy and EESG performance and turning our vision and goals into a reality.
FirstEnergy strives to be the employer of choice in the communities we serve, known for our diverse team, our culture of equity and inclusion, and our dedication to helping over 12,000 employees reach their full potential. We are developing a corporate culture where employees feel empowered to support our mission, drive our success, and build satisfying and engaging careers at FirstEnergy.
Our Core Values are the foundation of our transformation, our strategy and, ultimately, FirstEnergy's long-term growth and success. With a strong foundation of ethics and integrity, our leaders are fostering a culture where employees feel psychologically safe to be their authentic selves, speak up and bring their best to work every day.
Built upon these values, our talent management and Total Rewards processes are designed to attract, retain, focus, reward and develop a diverse and skilled workforce of high-performing employees and teams. Together, we are building a best-in-class utility and an exceptional place to work.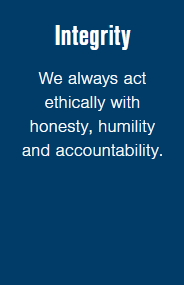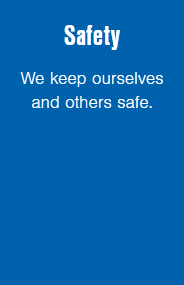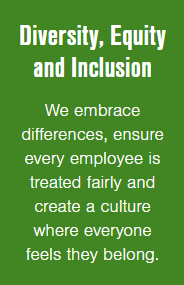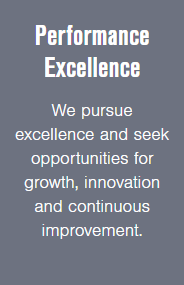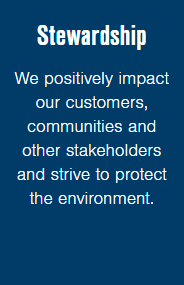 EMPLOYEE FEEDBACK

Throughout the year, employees are given the opportunity to provide feedback about the company's efforts to advance DEI ideals and culture initiatives within the organization. With employees' voices to guide us, we're continuing our transformation to a value and people centered company.

Additionally, guided by our newly enhanced Code of Conduct, The Power of Integrity we're fostering a culture of trust where leaders openly engage in two-way dialogue with employees, encouraging them to voice opinions and empowering them to strive for continuous improvement. Moving forward, we're focusing our efforts to provide greater clarity of purpose – enabling our organization and employees to take more meaningful steps toward growth and improvement.
FAIR, EQUITABLE AND COMPETITIVE COMPENSATION

At FirstEnergy, employees can expect wages that are competitive and consistent with their sustained performance, demonstrated values, positions, skill levels, experience and knowledge. FirstEnergy's internal policies and processes continue to support equitable and consistent pay practices for employees throughout our organization. Our Total Rewards, including compensation, are regularly benchmarked against our industry and utility peer companies to allow for competitive wages and benefits packages.

DIVERSITY, EQUITY AND INCLUSION

We're dedicated to promoting DEI in our workplace and within the communities we serve. By increasing efforts to identify and hire diverse talent, we've made progress toward achieving a 30% increase in racially and ethnically diverse employees, from our 2020 baseline, both companywide and at the supervisor-and-above leadership level by 2025. In addition, FirstEnergy continues to earn local and national recognition for our DEI initiatives.

A FLEXIBLE WORKPLACE
The COVID-19 pandemic prompted FirstEnergy and many other companies to reimagine the workplace and provide employees with more flexibility, including the ability to work remotely. Through this process, we've discovered that our office employees can remain highly productive and continue to support the safe and reliable delivery of electricity by our field workforce. As of July 2022, approximately half of our workforce is designated as mobile employees.


Prioritizing Performance and People
In our new workplace model, FirstEnergy will provide resources to help employees work securely and successfully in a mobile and flexible fashion while increasing employee satisfaction, retention and work-life balance.
To achieve our goal, we're taking the following steps:
Transitioning to a cloud-based model that enables more advanced technology solutions and integrated business systems.
Striving to provide employees with the tools they need to accomplish their goals, regardless of the technology or system.
Developing artificial intelligence and machine learning capabilities to train employees on cloud management and IT solutions.

EMPLOYEE SAFETY, HEALTH AND WELLNESS
Safety is a company imperative, a core value embedded in every aspect of operations. It means making sure we're doing the right thing at the right time, every time, so everyone returns home safely every day.
Our approach extends beyond physical safety to employees' whole health. We help employees make their overall health a priority through our robust HealthyLiving Wellness Program, which includes activities to promote physical, emotional, social and financial wellness.
We're also committed to ensuring our employees have time away to spend with loved ones and pursue interests outside of work. Our time-off policies are designed to promote a healthy work-life balance, and even support community engagement by offering eligible employees additional time off to volunteer their time and talents.
For more information, visit our Employee Safety, Health and Wellness page.
EMPLOYEES WHO LIGHT THE WAY
When it comes to transforming our company, we turn to our employees for inspiration. At FirstEnergy, we believe we are more than an electric utility company. We are 12,000 employees with the power to be a catalyst for good – a diverse and talented team accomplishing remarkable things every day.
Our employees are doing more than bringing our customers energy for the here and now. They are powering exciting opportunities for all that lies ahead. And we're investing in them – so they can invest in the communities where they live, work and play.
Our new Light the Way campaign celebrates our employees' exceptional efforts to do good for their communities and the 6 million customers we serve.