OUR APPROACH
We recognize that our electric service is wide-reaching, impacting more than 6 million utility customers who depend on us to provide safe and reliable energy every day of the year. Safety and performance excellence are core values for our company, and we are implementing important initiatives to meet customers' electricity needs today while preparing for increased demand in a clean energy future.
To drive improvement, our Energizing the Future transmission program and Distribution Grid of the Future program target investments that enhance the reliability and resilience of our system for customers. Routine infrastructure maintenance and storm preparedness plans also play key roles in our efforts to help ensure service reliability.
Vegetation Management Enhances Reliability
We conduct preventative maintenance on our infrastructure as part of our transmission and distribution programs in each of the states we operate. Vegetation management is one of the key proactive steps we take because we operate in heavily dense vegetative areas, where trees are a leading cause of outages. For that reason, it's a clear priority for us to manage vegetation along our distribution lines and transmission corridors, especially along rights-of-way.
Our Vegetation Management group manages more than 2.5 million trees every year. We follow four-year and five-year maintenance cycles for transmission and distribution lines, depending on the state or utility service area. Our vegetation management staff performs inspections and approves all work conducted by vegetation management contractors. Annual inspections of transmission rights-of-way corridors are performed to assess treatment effectiveness and identify necessary work to help ensure reliability.

Storm Preparedness and Service Restoration
While we continually maintain and invest in the electric grid to deliver reliable service to our customers, storms that bring damaging winds, heavy precipitation and lightning still have the potential to impact our electrical system. From constantly monitoring the weather so we are ready to respond to storm-related outages to staging crews and equipment when inclement weather is expected, FirstEnergy takes many steps to help minimize the time customers are impacted when outages occur.
When severe weather is forecast, FirstEnergy activates formal readiness plans to ensure plenty of service crews are prepared to tackle the damage. Our emergency response processes enable us to respond quickly and safely to a storm or other emergency. Our processes incorporate key principles and concepts found in the National Incident Management System (NIMS) to help ensure a standardized, consistent and scalable approach to all incidents regardless of size, scope or complexity.
To maintain a state of operational preparedness, we conduct exercises annually to test our training, as well as key systems and tools. These exercises are designed to prepare employees assigned to service restoration duties and review the restoration processes and storm-management tools critical to getting the lights back on quickly and safely. Additionally, we conduct After Action Reviews with affected stakeholders following all major storm events and emergencies to assess our performance and continuously improve our readiness. Corrective Actions are improvement items that result from After Action Reviews. These actions are assigned to specific individuals or groups to help ensure accountability and track completion.
Our FirstEnergy storm preparedness process comprises:
When severe weather is forecast, we activate formal readiness plans to ensure our customer contact centers can handle a larger volume of calls and our crews are prepared to safely clear damage and restore service.
Mutual Assistance Relationships
While employees of our operating companies are more than capable of handling most outages, we have mutual assistance relationships with neighboring electric utilities to help us safely and quickly restore power, as the need arises.

Emergency Operations Center
System operators at our regional distribution and transmission operations centers monitor weather forecasts around the clock and coordinate our service restoration resources and support as needed.

After a storm passes and it is safe to assess damage, we identify, assess and mitigate hazards in the interest of safety for our customers and employees. Our dedicated employees and external crews work in shifts around the clock until power is safely restored.

Emergency Communications Plan
We provide appropriate staffing for media coverage during outage events, hold daily conference calls about restoration progress with local officials and emergency management personnel, and use social media to share safety reminders and updates.
Estimated Time of Restoration (ETR)
We issue ETRs to provide customers with an expectation of when service will be restored. Customers are notified of changes to ETRs as they are updated.

Industry Recognition for Outage Restoration Efforts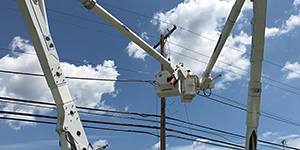 In February of 2022, for the 16th consecutive year, FirstEnergy Corp. earned recognition for its emergency response efforts from the Edison Electric Institute (EEI), a leading electric industry organization. EEI presents awards twice annually to member companies to recognize extraordinary efforts to restore power or for assisting other electric companies after service disruptions caused by weather conditions and other natural events. Winners are chosen by a panel of independent judges following an international nomination process. We're proud to have earned the following awards for our restoration response:
Emergency Recovery Award – Recognized for safely and efficiently restoring service to more than 175,000 of our New Jersey and Pennsylvania customers following the remnants of Hurricane Ida in September 2021.
Emergency Assistance Award – Recognized for helping Entergy with restoration efforts in Louisiana following category 4 Hurricane Ida.

In the wake of Hurricane Ida, more than 175,000 FirstEnergy customers in Pennsylvania and New Jersey were without power. Putting our Emergency Response Plan into action, FirstEnergy personnel worked safely to minimize the outage time for customers, ultimately replacing 217 poles, 125 transformers and over 21 miles of wire.

In addition, as part of our mutual assistance agreement, FirstEnergy deployed more than 525 employees – line workers, forestry and support personnel – to some of the most damaged areas in Louisiana, where they helped restore power for more than a million Entergy customers who were impacted by the devastating hurricane.