BIODIVERSITY COMMITMENT AND CONSERVATION PRACTICES
Our electric transmission system spans approximately 24,000 miles of lines connecting the Midwest and Mid-Atlantic regions and includes more than 13,000 miles of rights-of-way (ROW) transmission corridors. As we build and maintain our infrastructure to help ensure reliable electric service for our customers, we are also focused on preserving and protecting the environment on approximately 128,000 manageable acres. Beyond improvements to our own work practices, we collaborate with and support a range of organizations dedicated to habitat conservation in our service area.
Our corporate Biodiversity Commitment guides our actions to protect wildlife and support habitat conservation. Our commitment includes utilizing integrated vegetation management (IVM) best practices to establish and maintain a mixture of grasses, shrubs and other vegetation that yield thriving, biodiverse habitats in our transmission corridors. It also includes partnering with collaborative industry groups and research institutes to continuously improve utility and vegetation management best practices.


GREEN TEAMS
FirstEnergy's 10 Green Teams comprise employees from across the company who volunteer their time and talents to participate in a wide variety of environmental stewardship initiatives in support of our Mission Statement. Together, the Green Teams far surpassed their 2021 companywide goal, planting 17,000 trees in public spaces across our service territory. Setting a more challenging goal for 2022, the Green Teams are on target to plant more than 20,000 trees, focusing on economically depressed neighborhoods within our service area.

INTEGRATED VEGETATION MANAGEMENT
Integrated vegetation management is the process by which our Vegetation Management group evaluates our transmission corridors to assess tall-growing woody vegetation that can interfere with transmission lines and equipment. The group develops and implements corresponding control options such as herbicide application, manual pruning and mowing, along with tree and brush removal as necessary.
Our IVM process aligns with our Biodiversity Commitment and includes the use of ecologically focused management practices that foster compatible, low-growing and biodiverse plant communities that require less maintenance in the long run. This helps us reduce costs and provide more reliable service to our customers. Please see our Energy Reliability page to learn how our vegetation management practices contribute to service reliability.
CREATING POLLINATOR-FRIENDLY HABITATS
IVM also enables FirstEnergy to use our extensive transmission corridors to create pollinator-friendly habitats that sustain healthy populations of bees, butterflies and other pollinating insects. We believe well-managed rights-of-way that exceed minimum standards of care can provide the food and cover that wildlife needs to survive.
As part of the Vegetation Management program, the New Construction team has worked to support diverse pollinator habitats by starting a pollinator seed mix initiative. Since the Pollinator Seed Mix program began in 2020, we've planted more than 160 acres of newly created pollinator habitat, making significant progress toward our goal to create 225 acres of biodiverse habitats on utility rights‐of-way and company properties across our service area by 2025. The program aims to replace grass seeding with pollinator seed mixes after initial clearing activities on the rights-of-way.



Our goal is to create 225 acres of biodiverse pollinator habitats on utility rights-of-way and company properties across our service area by 2025.


BEING A RIGHT-OF-WAY STEWARD
The Right-of-Way Stewardship Council (ROWSC) is an accreditation program that has established standards for responsible right-of-way vegetation management along corridors. The program promotes the application of Integrated Vegetation Management (IVM) and best management practices to utility vegetation managers in order to maintain power system reliability and address ecological concerns.
FirstEnergy is one of only eight electric utilities in the country to be recognized by the ROW Stewardship Council as a fully accredited ROW Steward for our IVM practices. This accreditation program establishes responsible standards of excellence for ROW management and independently evaluates utilities' IVM practices according to more than 200 verifiers. Even more, as the largest electric utility to be recognized, this accreditation highlights the diverse and innovative team required for a successful IVM program of our scale and standards. We're proud to be named an industry leader in responsible ROW management, and we'll continue to promote the use of IVM in our transmission corridors, improving habitat and providing ecological benefits for pollinators and other wildlife as a result.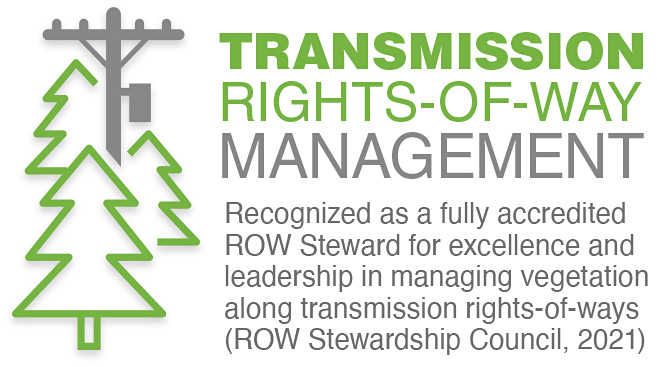 POLLINATOR CONSERVATION AND RESEARCH
Pollinators like bees, butterflies, bats and birds play a critical role in sustaining a healthy environment. Not only do they pollinate plants that produce one-third of the food we eat, but they also help maintain vegetation that cleans the air, prevents soil erosion and supports other wildlife. We believe the utility industry is uniquely positioned to create and support habitats where declining pollinator populations can thrive.
In addition to cultivating plant life that supports pollinators in our transmission corridors, FirstEnergy also partners with organizations on various pollinator initiatives and participates in collaborative research studies that help us develop increasingly sustainable vegetation management practices.
For example, we are a founding cooperator on the Pennsylvania State Game Lands 33 (SGL33) research project, which began in 1953 in response to public concern about the impact of vegetation management practices on wildlife habitat along a transmission corridor. Today, we work with researchers from Penn State who continue to study the effects of vegetation management practices on the wildlife habitats at SGL33 sites.
These continuous studies have demonstrated that our IVM work under transmission lines is key to the creation of diverse, early-successional plant communities, which provide the healthy, sustainable habitats that pollinators and other animal species rely on. Additionally, we participate in the EPRI Power-in-Pollinator initiative and Monarch Butterfly Candidate Conservation Assurance Agreement.


PROMOTING CONSERVATION AND POLLINATION
As part of our commitment to be good stewards of our environment and communities, we introduced a companywide initiative in 2020 to create and maintain pollinator gardens across FirstEnergy locations in Ohio, Pennsylvania, New Jersey, West Virginia and Maryland. Our employees have helped create 18 pollinator gardens at FirstEnergy locations.

AVIAN PROTECTION
Birds of prey, like ospreys, often seek out our utility poles and transmission towers to build their nests. These nesting tendencies place the birds near energized electrical equipment, which jeopardizes their well-being and can potentially cause power outages. Because our utility infrastructure naturally attracts nesting birds, we have a long-standing commitment to protect nesting birds from harm that can result from contact with our equipment.
Our avian protection process is about efficiently identifying and responding to bird activity along our power lines. As part of that process, our internal Avian Incident Reporting Application enables utility personnel to report avian issues in real time, streamlining the process to protect nesting birds and proactively mitigating risks to service reliability. This mobile app enables field workers to submit photos and answer key questions to report the locations of bird nests or other bird-related issues along the company's power lines.
Also, our drone team often plays a key role in our avian protection process. Drones allow us to safely evaluate nesting situations and plan next steps without disturbing the nests, which might contain eggs and cannot be disturbed in most cases.
After the drone inspection step in our avian protection process, we employ best practices to both create a suitable alternative nesting platform and relocate the nest. Our most notable success is with our osprey protection efforts. In partnership with the New Jersey Environmental Protection Agency, the Erie Bird Observatory and other groups, we have successfully protected these birds from electrocutions and collisions with our equipment by building safe nesting platforms away from our equipment and installing deterrents against future nesting on utility structures. This proactive work helps ensure the safety of the osprey population and prevents electric service interruptions for our customers.
In addition to our avian protection efforts, we maintain membership in the Edison Electric Institute's Avian Power Interaction Committee, which brings utilities, wildlife resource agencies, conservation groups and manufacturers of avian protection products together to protect birds. We also collaborate with the Erie Bird Conservancy, Hawk Mountain Sanctuary, Birds of Flight Sanctuary and other conservation organizations to promote avian awareness education and support protection efforts across our service area.



LINE CREW PROTECTS NESTING OSPREY
A Penn Power line crew partnered with state and federal wildlife agencies in western Pennsylvania to develop a plan for removing an osprey nest containing eggs that was situated on a utility pole. Disturbing or removing the nests can be a complicated task due to environmental regulations. In most cases, an active nest containing eggs cannot be disturbed. Unable to move the eggs to a nearby bird sanctuary because of permitting issues, Penn Power line workers developed an alternative solution to protect the birds. They installed insulated bird guard coverings on the power lines and equipment near the nest to keep the birds safe until the eggs hatched. Utility personnel waited until the fall, then safely removed the nest and installed the nesting platform.