PUBLIC SAFETY
Our commitment to safety extends beyond our employees and into the communities we serve. Our Public Safety group develops and manages programs that promote safety for those who may come near FirstEnergy's power lines or equipment.

STOP.LOOK.LIVE. CAMPAIGN
This ongoing public safety outreach campaign teaches people to stay safe around electricity by following three simple steps to avoid dangerous accidental contact with electrical equipment:
STOP what you're doing to consider your personal safety before working or playing around power lines or electrical equipment.


LOOK around for potential hazards and ways you might come into contact with electrical equipment and identify a way to avoid the hazard.


LIVE and prevent serious injury or death by taking precautions to avoid accidental contact with electrical equipment.
Stop.Look.Live. reflects our proactive companywide approach to safety and helps customers and community members identify and avoid potentially dangerous situations.

DRONE SAFETY
With the growing number of drones now hovering in the skies above our service territory, FirstEnergy's Public Safety group is working to increase awareness about the potential dangers of flying near energized electrical equipment.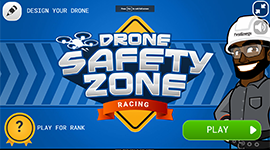 Our Drone Safety webpage provides important tips for unboxing a new drone and safe operation, along with how to download FirstEnergy's The Drone Safety Zone video game. The online racing game was promoted via digital and social media and invited tweens and teens to virtually test their flying skills. The electrifying racing experience lets kids design their drone and race against other pilots, all while reinforcing important safety messages about drones and power lines.
In addition to the Stop. Look. Live advertising campaign, we have robust direct mail, email and web-based educational resource programs that target school-age kids, first responders and our most at-risk contractors, including heavy equipment operators, excavators, tree trimmers and other contractors who often work near or around energized electrical equipment. We also send bill inserts to customers containing tips on how to stay safe around downed power lines and high-voltage transmission lines, and in other potentially dangerous scenarios.

Live Wire Electrical Safety Trailers
As part of our Stop. Look. Live public safety outreach program, we help educate and prepare first responders and other members of the community who may come near our electrical lines and equipment. To enhance this educational program, our fleet of Live Wire Electrical Safety trailers demonstrates how electrical hazards are encountered and handled safely in the field.
A new fleet of Live Wire Electrical Safety trailers are available to each of our 10 operating companies and will be used in programs across our service territory. The 24-foot trailers are fitted with power lines, transformers and other electric conductors as well as metal items, such as ladders and car doors that could come in contact with energized equipment.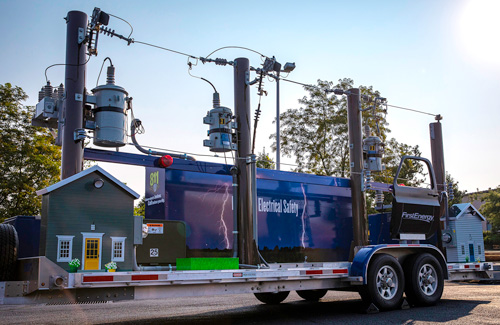 We continue to develop and improve our public safety outreach efforts to protect human life, reduce exposure and eliminate events for anyone who may come near FirstEnergy lines or equipment. For more information, please see our external public safety website.