WHO WE ARE
At FirstEnergy, our dedicated employees drive our strategy and our success. They are also central to our cultural transformation – helping us build a diverse, equitable and inclusive work environment that leverages teamwork, fosters innovative thinking and embodies ethics and integrity. We are developing a workplace where leaders foster a collaborative and inclusive atmosphere, assemble diverse teams, and help employees understand and embrace their role in executing our overall strategy.
To attain our vision now and in the future, we are creating this culture of inclusion by encouraging collaboration, enhancing employees' overall well-being and increasing trust and communication across the organization.
We're setting and achieving goals in three core areas: building diverse and high-performing teams within a culture of the highest standards of integrity and ethics; creating an inclusive environment of respect, appreciation and acceptance for everyone; and helping employees grow, develop and reach their full potential.
For more workforce demographics, please visit our EESG data tables.
Gender

Gender - Leadership


Race/Ethnicity
Race/Ethnicity - Leadership
Generations

Additional Measured Categories

Data is through Year End 2021, unless otherwise noted. Leadership is defined as supervisor-and-above positions. Racially/ethnically diverse refers to American Indian or Alaska Native, Asian, Black/African American, Hispanic or Latino, and Native Hawaiian or Other Pacific Islander. Racially/ethnically diverse employees may be recorded in more than one category. Generations' year of birth: Boomer is <1943-1964, Gen X is 1965-1980, Millennial is 1981-1996, Gen Z is 1997 >. Demographic information is based on employee voluntary self-identification. LGBTQ+ is an acronym for lesbian, gay, bisexual, transgender and queer or questioning. IWD is an acronym for individuals with disabilities. Veteran includes employees who self-identify with the performance of duty on a voluntary or involuntary basis in the Armed Forces and can include active duty, active duty for training, initial active duty for training, inactive duty training, full-time National Guard duty, part-time duty service in the Reserve and/or National Guard, active Reserve, inactive Reserve, retired military and veteran status.
RECRUITING AND HIRING A DIVERSE, HIGH-PERFORMING WORKFORCE

FirstEnergy's recruiting, interviewing and hiring processes leverage many recognized best practices to help ensure the best candidate is selected for every open position.
To that end, our key recruiting and hiring practices include:
Requiring diverse candidate and interview slates for positions where racially and ethnically diverse or female employees are underrepresented as compared to external labor market availability.
Requiring racially and ethnically diverse interview panels for director-and-above positions.
Building a hiring champion network of over 400 employees who have been trained to support all interview panels and establish an objective, consistent approach for the interview and selection processes.
Requiring hiring managers and interview team members to undergo training designed to mitigate unconscious bias in the selection process.
Providing a scholarship program that offers financial assistance to traditionally underrepresented students in our Power Systems Institute, an award-winning program designed to train the next generation of line and substation workers.
Our actions to increase the consistency and inclusivity of our hiring process have made a positive impact on our talent recruitment efforts. In 2021, we experienced significant increases in the percentages of external hires filled by females and racially/ethnically diverse candidates.
*Overall diverse in 2019-2021: includes hires who are racially/ethnically diverse, females, individuals with disabilities and LGBTQ+ -- employees are only counted once even if they meet multiple dimensions of diversity.
BUILDING THE TALENT PIPELINE
Building our workforce begins long before a candidate applies for a job. The Co-op/Intern program is one of the ways we develop the talent pipeline by providing meaningful and challenging work assignments and professional development, mentorship and networking opportunities to college students. Our Co-op/Intern program successfully continued during the pandemic while similar programs across the industry faced challenges. We also converted a greater number of racially/ethnically diverse program participants to full-time employees than in previous years. When participants have completed their schooling, they are eligible to apply for full-time employment.

Ambassador Network
Through the FirstEnergy Ambassador Network, we're engaging with a broad network of colleges and universities, professional societies and community organizations to increase awareness of careers in the energy sector and build a diverse talent pipeline for our company.
More than 400 employees, including 22 Executive Sponsors, participate in the Ambassador Network to help showcase growing opportunities within FirstEnergy and the electric utility industry.
These employees work closely with local organizations and educational institutions, including Historically Black Colleges and Universities (HBCUs), to establish Ambassador Network teams and help us recruit top talent from underrepresented populations.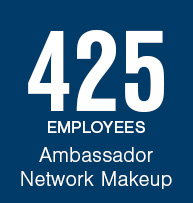 RETAINING TALENT
One hallmark of an inclusive workplace is that employees choose to stay and build their careers with us. We monitor attrition rates across all employee demographics as an indicator of job satisfaction and engagement. Overall, we enjoy low turnover at FirstEnergy with rates below external benchmarks.
We are committed to advancing an inclusive workplace with a goal of retaining women and racially and ethnically diverse employees at the same rate as men and White/non-Hispanic employees. For details on our inclusion initiatives, which are essential to our success in talent retention, please visit our Diversity, Equity and Inclusion page.

Data is representative of Year End 2021, unless otherwise noted. Percentages are a comparison of attrition to overall in-group population. Includes employees who separated from FE voluntarily (e.g., resigned due to an outside opportunity). Demographic information is based on employee voluntary self-identification. Racially/ethnically diverse refers to American Indian or Alaska Native, Asian, Black/African American, Hispanic or Latino, and Native Hawaiian or Other Pacific Islander. Racially/ethnically diverse employees may be recorded in more than one category.
MANAGING AND ASSESSING OUR TALENT
FirstEnergy is a multifaceted organization with a range of opportunities for employee growth, development and advancement. Moving forward, we're focusing our efforts to provide greater clarity of purpose – enabling our organization and employees to take more meaningful steps toward improvement and long-term success. Our process incorporates various elements, including:
Career Management – Employees actively plan and manage their careers in partnership with leadership. Our career management process includes:
Setting priorities that identify the most important work employees do to support their team's objectives and goals.
Creating development goals that focus on a knowledge, skill or behavior needed for career growth. At least one development goal must be tied to a FirstEnergy value or behavior.
Holding quarterly check-in conversations with a supervisor to discuss priorities, career aspirations, development goals and more.
Talent Talks – Business-unit leaders assess employees' leadership potential, performance and development needs.
Leaders from each business unit meet at least annually to discuss and calibrate employees' year-over-year performance, potential for leadership positions and actions that can accelerate future opportunities.
These discussions focus on better understanding employees' capabilities, development areas and aspirations, while also ensuring a meaningful development plan is in place that will help accelerate their readiness for leadership opportunities.
Open and honest discussion prepares leaders to provide ongoing development coaching to employees.

Succession Planning and Leadership Selection – FirstEnergy strives to maintain a robust and diverse leadership pipeline for manager-and-above positions while ensuring that meaningful development plans are in place for emerging leaders. We often look to succession plans when there is a need to fill a leadership role, but we also engage in external searches to make sure we consider a broad, diverse pool of candidates. Ultimately, our robust selection process helps ensure we identify the best person for the job:
Near-term and long-term successors are identified during Talent Talk discussions.
Leaders provide aggregate feedback to help ensure that successors for leadership positions have development plans that address their strengths and development needs, and prepare them to take on additional responsibilities and/or new roles.
Talent talks, succession plans and job postings are used to identify candidates for open manager-and-above positions.
An objective, behavior-based interview process is used to interview candidates for open leadership positions and to select the best candidate for the position based on all the factors considered.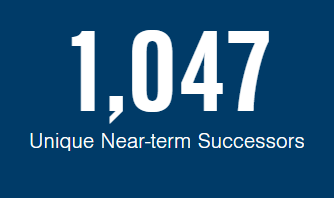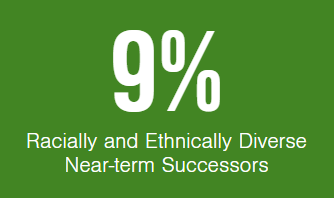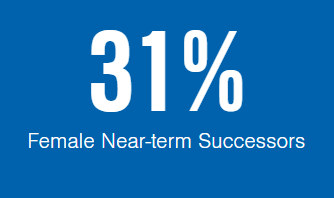 Data is representative of Year End 2021. Succession plan metrics are based on manager-and-above succession plans. Near-term successor includes employees who are considered Ready Now or Less than 2 years Racially/ethnically diverse refers to American Indian or Alaska Native, Asian, Black/African American, Hispanic or Latino, Native Hawaiian or Other Pacific Islander and Two or More Races. Racially/ethnically diverse employees may be recorded in more than one category. Demographic information is based on employee voluntary self-identification.

EMPLOYEE DEVELOPMENT
Employee development is another key talent management process. We are committed to preparing our high-performing workforce for the future and helping each employee develop their skills and competencies to reach their full potential. Our learning and development strategy encompasses a range of employee development and training programs designed to help our employees achieve professional goals and drive FirstEnergy's success.
Power Systems Institute
An award-winning program for recruiting and developing the next generation of highly trained, dedicated and motivated line and substation workers. The 21-week program combines technical coursework at local community colleges with hands-on skills instruction at company facilities. To date, FirstEnergy has hired nearly 2,400 line workers and substation personnel who completed PSI programs. Please visit the PSI page on our website for more information.


Apprentice Pilot Program Augments PSI Efforts
Launched in 2020 our Line Worker Apprentice Program is designed to complement our PSI training. This FE Forward initiative will help to address labor shortages in rural areas where our utilities have had difficulty attracting talent or have experienced higher-than-average attrition rates.
The initial pilot helped fill open positions at Ohio Edison's Marion, Sandusky and Springfield locations. After the qualifying and selection processes were completed, successful candidates were hired as full-time employees at the C-line worker apprentice level – then will progress to the B-line worker level over the next two years.
FirstEnergy teamed up with the leadership of the International Brotherhood of Electrical Workers (IBEW) and the Utility Workers Union of America (UWUA) to conduct the line apprentice program. A second pilot is scheduled for Pennsylvania Operations beginning summer of 2023.

Employee Education and Certification
We help our employees pursue degrees and certifications to advance their careers and enhance their contributions to FirstEnergy. Through our comprehensive tuition reimbursement program (capped at $5,250 per year per person), we assist all regular, full-time employees, including union members, with the costs of satisfactorily completed courses of study directly related to our business. In addition, our new Educate to Elevate program assists employees in pursuing associate and bachelor's degrees at partner colleges and universities in Toledo (Owens College), Akron (Stark State and The University of Akron), Reading (Alvernia University) and Fairmont (Pierpont College). The benefits of this program include tuition deferment and a cohort-style approach with other FirstEnergy employees.
Mentoring Program
Our formal mentoring program matches mentees with mentors who can support their long-term career growth. It is designed to create collaborative, two-way partnerships that encourage individual development through sharing expertise, values, perspectives and attitudes. We offer both an open enrollment mentoring program, available to all non-bargaining employees to be a mentor, mentee, or both. In addition, we have a hand-matching program to support the development of high performing and high potential employees and racially/ethnically diverse talent.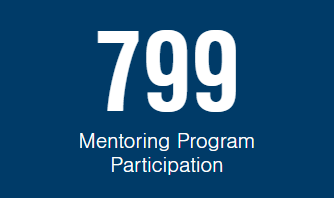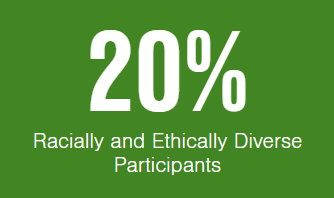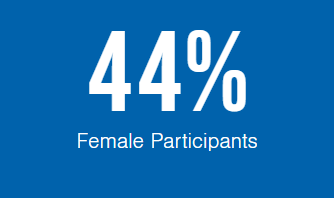 Data is representative of Year End, 2021. Bargaining Unit employees are not eligible to participate in the mentoring program currently, except for the Reading Contact Center. Racially/ethnically diverse refers to American Indian or Alaska Native, Asian, Black/African American, Hispanic or Latino, and Native Hawaiian or Other Pacific Islander. Racially/ethnically diverse employees may be recorded in more than one category. Demographic information is based on employee voluntary self-identification.
DEVELOPING OUR LEADERS

We're also committed to preparing our emerging leaders for new roles and management responsibilities. We invest in developing our leaders, so they can continually build on their strengths and grow their capabilities to create a safe and inclusive workplace – where all employees feel they belong and that their thoughts and ideas are heard.
Aspiring Leader Program: In 2022, we partnered with Kent State University to pilot the Aspiring Leader Program. This program was designed to provide a development opportunity to high performing individual contributors on near-term succession plans to further prepare them for leadership roles in the future.


New Supervisor and Manager Program (NSM): Our NSM Program prepares newly hired or promoted supervisors and managers for their supervisory responsibilities, training them in leadership practices that align with our mission and core values.


Experienced Leader Program: This program educates and trains experienced managers and directors in effectively leading their teams and the organization. Delivered through a series of virtual, instructor-led and small-group coaching sessions spread over six months, it equips our leadership with the tools to support their teams and ultimately drive FirstEnergy's success.


Senior Leadership Development: Executives are selected to participate in intensive leadership development experiences in partnership with the Center for Creative Leadership, a premier external vendor for leadership development. These experiences enable executives to reflect on their leadership style and examine and maximize their effectiveness to accelerate organizational commitment, alignment and results.
PERFORMANCE MANAGEMENT PROCESS
During check-in conversations throughout the year, employees and their leaders discuss their performance, progress towards priorities and development goals. During our annual Performance Investment and Rewards Calibration (PIRC) Process, leaders within a business unit or department come together for performance calibration sessions. Discussing and calibrating employee performance provides multiple perspectives and helps ensure that leaders differentiate performance in a fair and consistent manner when allocating compensation increases among employees.