ENERGY EFFICIENCY

FirstEnergy has long supported our customers' ability to use energy more efficiently and wisely. Our energy efficiency programs are one way we help customers identify areas to reduce energy use and minimize their carbon footprint while also saving money on their electricity bills. We offer a suite of energy efficiency programs to meet or exceed these reduction targets while also supporting system reliability and lowering customers' demand for electricity.


In 2022, our energy efficiency programs helped customers save over 580,000 MWh of electricity—the equivalent of one year's pollution from 84,000 cars. By 2025, we aim to help customers achieve cumulative reductions in electricity usage exceeding 7.5 million MWh and lower their demand on the electric grid during peak usage hours by 400 MW, each from our 2020 baseline. These actions, if implemented as planned through 2025, will avoid the equivalent of more than 5.3 million metric tons of GHG—the equivalent emissions generated by more than 1.1 million passenger vehicles driven for one year.

Residential customers can save energy through significant incentives that offset the costs of major home efficiency upgrades, such as home insulation and weatherization, major appliance upgrades or heating and cooling system improvements. Others may benefit from smaller, incremental changes such as lighting improvements, enhanced energy usage data and education, or kits that provide useful energy-efficient products, such as LED light bulbs. To view energy efficiency programs and tools available to residential customers, visit our website .

We also offer solutions for small businesses, government entities, schools and even the largest and most energy-intensive manufacturers and industries. Our portfolio of commercial and industrial programs provides measures and financial incentives for these customers to purchase qualifying high-efficiency products; recycle inefficient appliances; complete energy audits; and adopt energy-saving behaviors or energy management practices.
To view these and other programs available to our commercial and industrial customers, visit our website.
Our goal is to help customers achieve cumulative electricity reductions in excess of 7.5M MWh between 2021-2025.


Please see our EESG data table for our customer service metrics.
Energy Management
FirstEnergy has long supported our customers' ability to use energy more efficiently and wisely. And, we continue to help our customers better understand and manage their energy usage by linking them to a variety of energy efficiency programs and energy management tools – giving them the power to achieve their energy goals.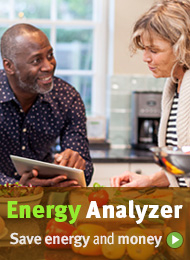 Our online Home Energy Analyzer tool helps customers gain valuable insight into their energy use to determine solutions that will work best for their households. The tool includes bill comparisons, home and business energy analysis, account information and preferences and high-bill alerts. With all of this information at their fingertips, our customers are empowered to make changes in their energy use during the current billing period to keep their monthly electric bill affordable.
Visit our Home Energy Analyzer page to learn more.
For additional information on our Energy Management tools and resources, please visit our Energy Savings website here.
Distributed Energy Resources
We understand the pressing desire for low- and zero-carbon generation and recognize that our customers expect more sustainable energy options. We support our customers' right to safely use distributed energy resources (DERs) and have developed processes that support the interconnection of solar, energy storage and other DERs consistent with the laws and regulations of the states in which we operate.
As customers grow more interested in the opportunities presented by DERs, we are studying the best ways to facilitate connection to our grid. Every installation is unique, and we work closely with customers who submit an application to interconnect their DERs with our distribution system. We have developed a comprehensive review process to assess the interconnection scenario, request clarifications and identify any adjustments needed before proceeding with the interconnection process. Once these requirements are satisfied, we collaborate with customers to complete the safe and reliable integration of their DER project on our grid.
As we explore ways to meet our customers' increasing demand for use DERs, we must also maintain compliance with regulatory restrictions related to renewable energy generation. For example, FERC Order 2222 opens up wholesale market participation to aggregation of distributed energy resources on the distribution system. To help clarify the full scope and implications of such regulations, we have a dedicated team focused on understanding how all those individual DER components, when aggregated, can be effectively and safely integrated into our system.