COMMUNITY VITALITY
FirstEnergy's corporate and foundation giving strategies focus on initiatives that parallel our business interests, while helping our communities and the people who live in them achieve greater success Our contributions and philanthropic outreach support organizations and projects dedicated to improving the environmental, economic, social, educational and cultural aspects of our communities.
We are also committed to the long-term economic health of the communities we serve through development initiatives that create jobs, support local suppliers and attract new businesses throughout our service area. In addition, our robust Employee Volunteer Program supports the ability for our employees to engage with and give back to our communities.

FirstEnergy Foundation
The FirstEnergy Foundation invests in nonprofit organizations to enable positive, sustainable changes that strengthen the communities we serve. The Foundation's priorities range from supporting key safety initiatives and promoting workforce and economic development to improving social and cultural aspects of our region. As an overarching priority in line with our companywide focus on diversity, equity and inclusion (DEI), the Foundation also supports organizations and initiatives that demonstrate a meaningful commitment to DEI.

GIVING PRIORITIES




Giving Priorities in Action
In New Jersey, the Foundation's grant to America's Grow-a-Row (The Fresh Produce Initiative) will help improve quality of life and increase access to nutritious fresh produce for people suffering from food insecurity and related health issues. Located with our JCP&L service area, this program serves low- to moderate-income individuals and families of all backgrounds and ethnicities in rural, suburban, and urban areas.
In Pennsylvania, the Foundation is empowering communities' workforce development with a two-year grant to help move Latinos out of poverty by offering occupational training, adult basic education, employment services and case management to the residents of Berks County as well as Reading. Awarded to Berks Latino Workforce Development Corp. in our Met-Ed service area, the grant will bolster programs that help participants to obtain role-based training and advanced certifications but also help bridge the gap of English as a second language, high school equivalency, soft skills, job readiness, professional development, and college readiness.


Investing With Purpose
Funded by the FirstEnergy Foundation, Investing with Purpose was originally developed in response to the COVID pandemic, which created health, financial and educational hardships for customers across FirstEnergy's footprint, and in response to the events of 2020 that highlighted racial and social injustices impacting our nation. With those issues in mind, the Foundation identified philanthropic opportunities through nonprofit organizations across its service territory that are responding to needs of vulnerable populations.
In just two years, Investing with Purpose granted over $3.1 million, supporting initiatives in four key areas – health and safety, workforce development, education and social justice. This represented an additional commitment on top of the company's annual charitable giving, which averages approximately $10 million per year.
Corporate Giving
We are committed to building productive relationships to address areas of need in our communities.
Community Support Efforts:
Matching Gifts: The FirstEnergy Foundation's Employee Matching Gifts program supports employee contributions to qualifying educational, cultural, youth, civic and health and human services organizations.
Harvest for Hunger: Our company and employees care deeply about food insecurity in our communities. Every March, our employees organize friendly fundraising competitions and events that support local food banks and community pantries.
United Way: The FirstEnergy community has long supported United Way in its efforts to improve the health and socio-economic well-being of our communities.
Storm Response: In-kind donations are also top of mind, especially following an extreme weather event. Staging sites for FirstEnergy operations during storm response often become distribution sites for excess food and supplies at the conclusion of a storm. Food, beverages, paper products and other supplies are donated to area foodbanks, community pantries and other social service agencies to aid customers as they recover following a storm.


Employee Volunteerism
FirstEnergy's corporate responsibility approach also emphasizes the importance of investing our time and resources to support the communities we serve. Our employees light the way in their communities every day, and our company encourages community engagement through company-sponsored events and our volunteer time off (VTO) program.
Support for employee volunteerism includes:
Volunteer Time Off (VTO): Our VTO policy provides employees with 16 hours of additional paid time off per calendar year to volunteer within their communities.
Community Impact Portal: This user-friendly platform automatically sends volunteer opportunities and reminders to employees based on their geographic area; provides dashboards that track employees' volunteer hours and giving pledges; and makes it easier to find volunteer opportunities and donate to non-profit organizations of their choice.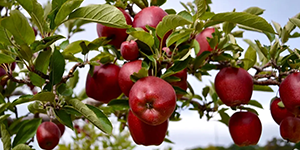 FirstEnergy donated 30 fruit trees and 800 oak tree saplings to support students in Howell, NJ Food Forest. The food forest will create a sustainable source of fresh fruit for local food pantries, while promoting community engagement and educational opportunities.
We continue to strengthen our communities by supporting charitable organizations, partnering with local schools, providing economic development leadership, and supporting projects dedicated to improving the environmental, social and educational and cultural aspects of our communities. In addition, employees at all levels of the company serve on many nonprofit boards and advisory groups.

Economic Development
We support the long-term economic health of the communities we serve through development initiatives that create jobs, support local suppliers and attract new businesses throughout our service area.
Our strategy is built on developing and maintaining relationships with economic development partners at state, regional, national and international levels. Coupled with our economic development expertise, these relationships help us to retain and attract businesses to our service territory, encourage investment in the areas we serve and provide value-added services and support to help our communities thrive.
Our Economic Development team's services include providing key economic indicator data to our regional partners and conducting local demographic research and economic impact studies. We also offer relocation services to companies considering moving to our region, promote urban revitalization and workforce development, and sponsor community readiness programs.
Additionally, the Economic Development website acts as a self-service hub, enabling our customers to access the information they need quickly, conveniently and intuitively. This feature aligns with FirstEnergy's goal to enhance customers' interactions with our digital media as part of our best-in-class customer experience.
Our Economic Development team also serves customers and communities by helping to promote business development and job growth across our service area. Building on our strong economic development track record, we strive to create $25 billion in cumulative economic impact across our service area from 2020 to 2025.