EXPANDING ELECTRIC VEHICLE (EV) INFRASTRUCTURE
Transportation electrification has the potential to eliminate direct tailpipe emissions from gasoline-powered cars and improve air quality across our service area. Our EV Driven programs in Maryland and New Jersey are making electric vehicle adoption more accessible, convenient and affordable.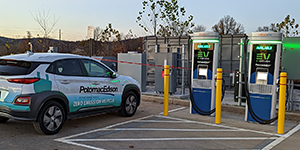 In Maryland, we're supporting the state's goal to have 300,000 zero-emission vehicles on the road by 2025. by installing utility-owned public charging stations throughout our Potomac Edison service area. Through August 1, 2022, we have installed 22 charging stations as well as eight direct-current (DC) fast chargers, which can provide an 80% charge for most EVs in less than an hour. We have also installed Level 2 charging stations that accommodate two vehicles simultaneously and deliver 8 to 24 miles of range per hour of charging.
In New Jersey, we're supporting the state's goal of registering 330,000 electric vehicles by 2025 by providing incentives for electric vehicle charging infrastructure. With this four-year, $38.9 million program, JCP&L's is providing incentives for residential, mixed-use commercial and multifamily property charging. We're also working to increase public-access DC Fast charging, with incentives up to $25,000 per DC fast charger port for up to 248 charging locations accessible to the public across JCP&L's service territory.
We are also seeking approval through our Ohio Grid Mod II plan to, among other objectives, pilot programs that would support the adoption of electric vehicles and test new EV technologies, which will help us prepare to maintain reliability as EV adoption increases.
To learn more, visit our Choose EV Website. The interactive website contains a wealth of information about electric cars, including a tool that allows you to view available car models and price ranges, calculate potential fuel cost savings, and understand the times associated with various charging options. You can also see if there are utility rates, rebates or tax incentives available at the federal or state levels.